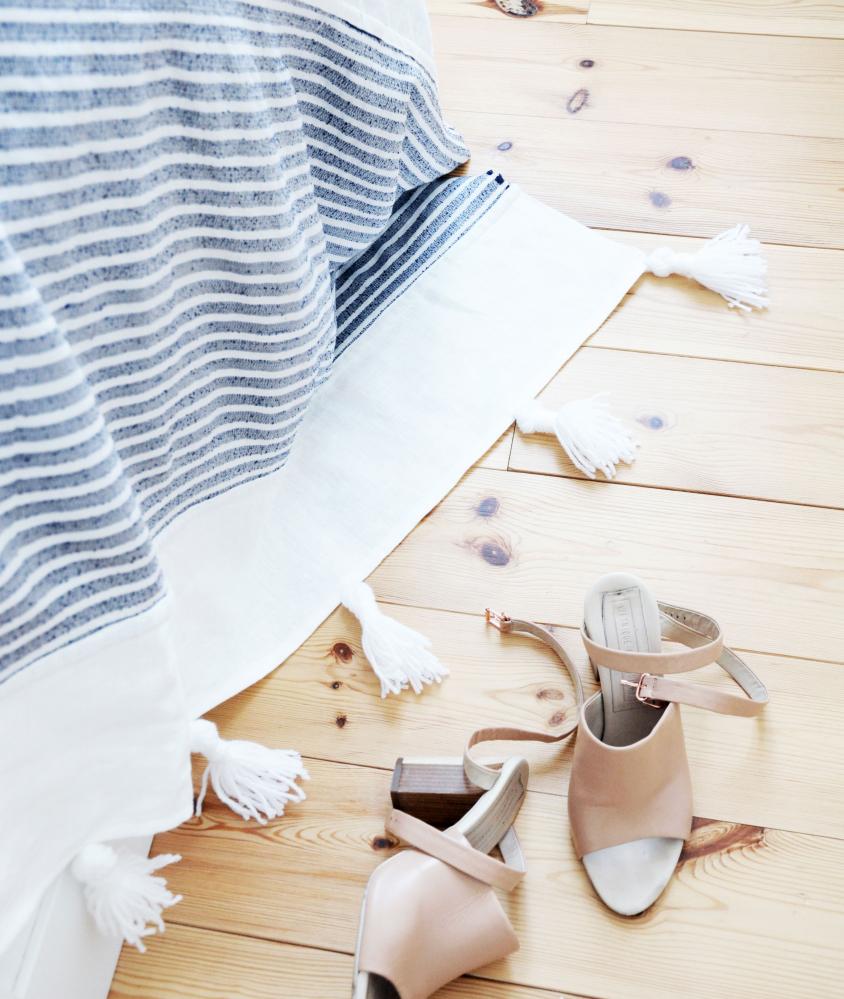 NUÏ made a cosy, Mediterranean-inspired blanket for the foot of your bed!
MATERIALS
• White thread
• Ball of white wool
• Piece of cardboard (10 cm x 5 cm)
• Fabric 1: white linen (160 x 140 cm)
• Fabric 2: striped cotton (80 x 140 cm)
SIZE
Length ±220 cm – width 140 cm
DIY INSTRUCTIONS
1 Cut the linen fabric into 3 pieces: PIECE 1A (20 cm x 140 cm) // PIECE 1B (120 cm x 140 cm) // PIECE 1C (20 cm x 140 cm).
2 Cut the striped fabric into 2 pieces: PIECE 2A (40 cm x 140 cm) // PIECE 2B (40 cm x 140 cm). The cut rectangles include the seam allowance.
The pieces are then attached to one another as follows:

Since you're working with the entire width of the fabric (140 cm), you do not have to finish the sides. These will be automatically finished when they are cut from the roll.
3 THE SIDES OF THE THROW // ROLLED HEM:
Finish the sides of the throw using a rolled hem: fold over 1 cm, press, fold over 1 cm again, press again. Sew at 0.8 cm from the edge.
4 THE CENTRE SEAMS OF THE THROW // FRENCH SEAM:
Sew the other side of PIECE 1A and PIECE 1C onto PIECE 2A (resp. PIECE 2B) using a French seam. Pin PIECE 1A and PIECE 2A together with 1 cm difference. Therefore, the seam value of PIECE 1A = 2 cm. The seam value of PIECE 2A = 1 cm. Sew the two pieces together at 2 cm from the seam allowance. Press open the seam allowances. Roll and then press the seam allowance for PIECE 1A around that of PIECE 2A. Sew this into place at a distance of 0.8 cm from the first seam. You also sew PIECE 1B to PIECE 2A and PIECE 2B using a French seam.
5 TASSELS
Wrap the wool around the 10 cm cardboard a dozen times. Cut all the way through the yarns along the bottom of the cardboard in a single straight line. Now you have yarns that are all the same length. Take a bunch of yarn, fold it in half, and wrap a string of wool yarn around the folded end. Your tassel is ready. Sew 8 tassels at equal distances along one side of the throw (the side with the rolled hem) and 8 along the other side and you're finished!
You can find NUÏ on Instagram and Facebook, too.