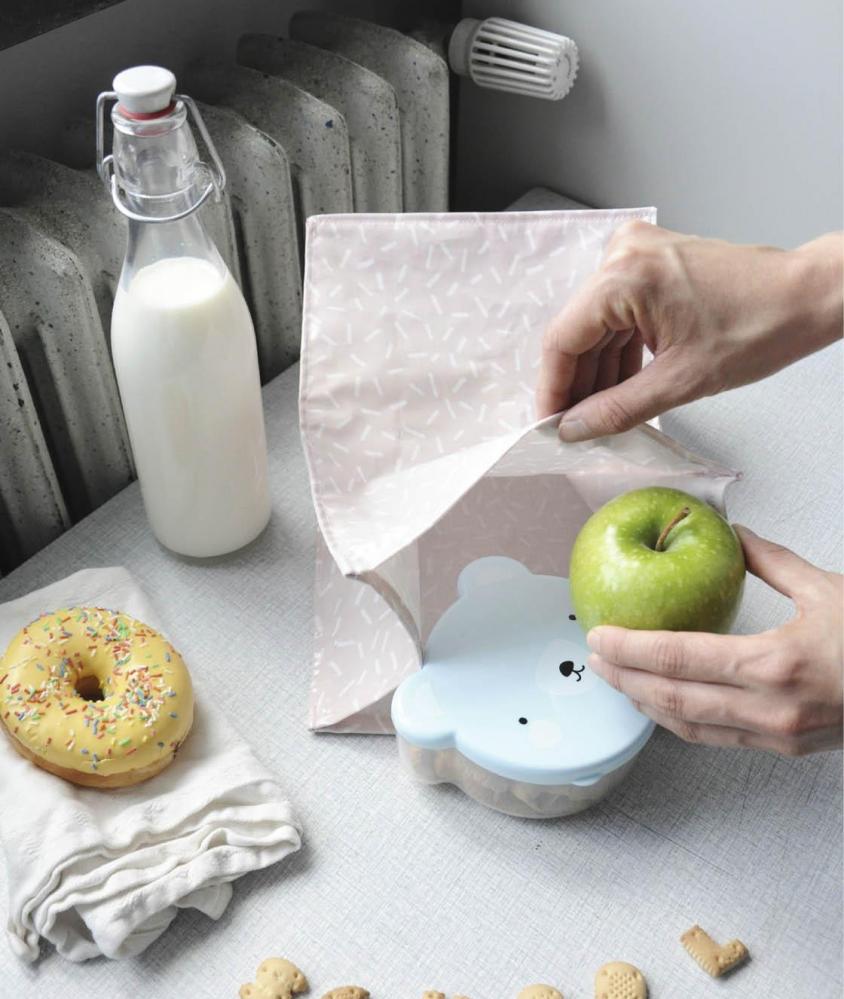 A useful lunch bag for adults or kids that you can quickly make yourself using oilcloth. If you want, you can finish the top edge with a clip or a bit of Velcro. Another fun way to close the bag is to use a metal (paper) clamp or a clothes peg.
THE FABRIC
We used oilcloth.
MATERIALS
• Fabric: oilcloth – 35 cm
• Silk thread: tone on tone colour to match the fabric
• Pattern tracing paper
• Drawing supplies
PATTERN/DIMENSIONS
Lunch bag dimensions: h 30 cm – w 20 cm – d 15 cm
Pattern piece 1 (front and back): rectangle, 33 x 22 cm
Pattern piece 2 (sides): rectangle, 33 x 17 cm
Pattern piece 3 (bottom): rectangle, 22 x 17 cm
Attention: all pattern pieces include a seam allowance of 1 cm!
SEWING INSTRUCTIONS
Cut the pattern pieces out of the tracing paper and pin them in the seam allowance, parallel to the edge, to the fabric (this way, you don't make visible holes in your oilcloth). Then cut pattern pieces 1 & 2 out of the fabric twice. You only need one pattern piece 3. Press the pattern pieces at the lowest setting with a towel between your oilcloth and the iron. Sew a zigzag stitch all the way around the edges of each pattern piece. Sew pattern pieces 1, 2 and 3 together; see illustration below.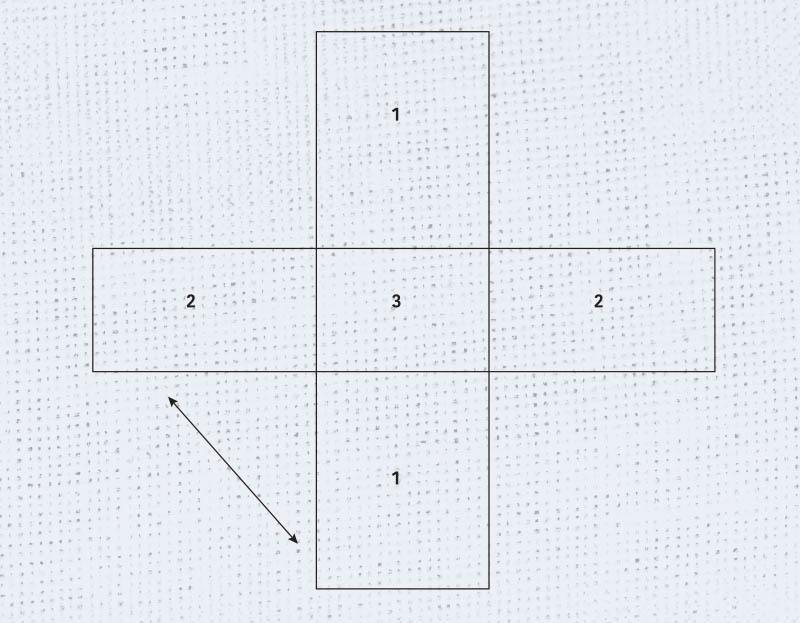 Thin out the corners at the bottom. Do this by cutting o the seam allowance diagonally in the direction of the corners where all the seams come together. Finish the top edge of the bag using a rolled hem of 1 cm x 1 cm. Press 1 cm of the top edge to the inside; repeat (use the lowest setting on your iron and place a towel over the fabric to keep it from melting). Sew all the way around the edge at 0.8 cm (stitch length 3).
To reinforce the seams, sew another decorative stitch along the outside of the bag along the seams. Do this by pinching the seam between your fingers and then sewing together at 2 mm from the seam. Sew the first decorative stitch around the bottom of the bag and then along the open seams.
And you're finished!
You can find NUÏ on Instagram and Facebook.