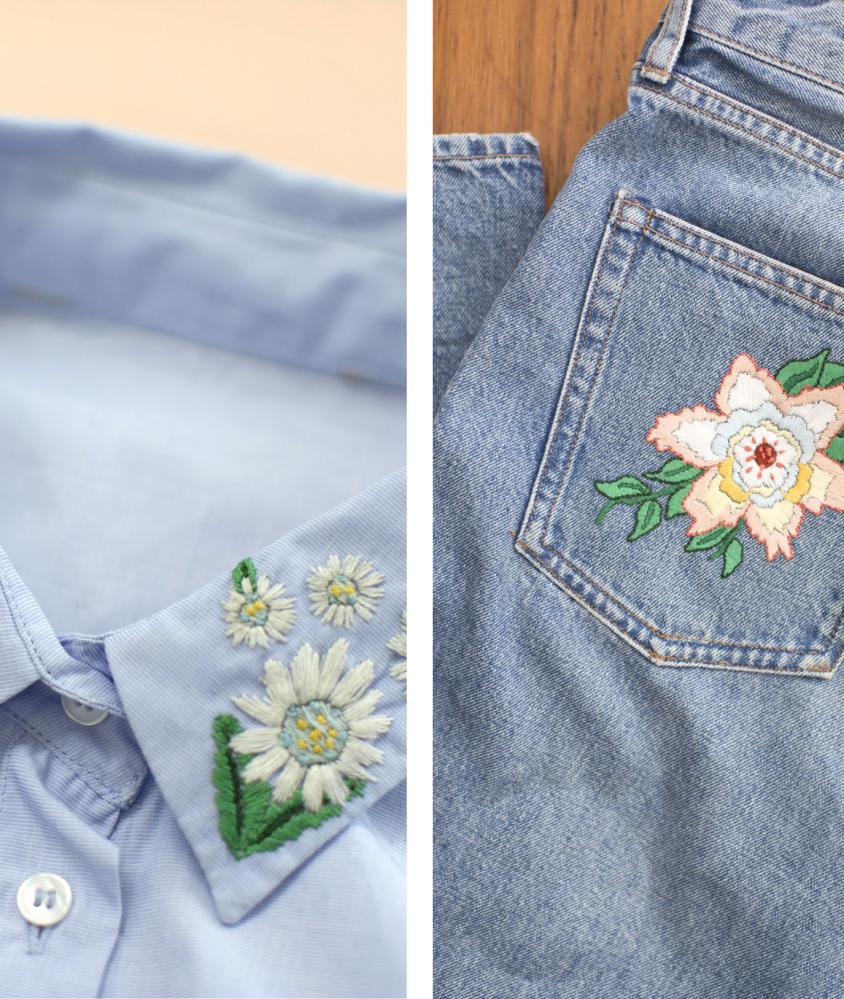 Embroidery is totally hot and happening right now! All kinds of lovely handmade pieces are appearing on clothing and interior design accessories. We think that the best thing about this trend is the fact that you can do it yourself!
MATERIALS
• Garments
• Embroidery paper (Solufix from Vlieseline)
• Embroidery needle
• Embroidery threads: DMC colours 351, 728, 745, 754, 828, 890, 909, 911, 919, 3766, and 3865
• Scissors
• Flower pattern on jeans (Download 01 and 02)
• Flower pattern on collar (Download here)
STITCHES USED
• Satin stitch with 2 threads
• Straight stitch with 3 threads
• French knot with 3 threads
INSTRUCTIONS
1. Pick out a garment which you'd like to embroider the flowers onto. We opted to embroider a large flower on the back pocket of our favourite jeans and small flowers on the collar of a blouse. Remove the pocket from the jeans to make it easier to embroider.
2. Download the drawings of the flowers here and print them out at actual size. Then copy the drawings over to embroidery paper.
3. Attach the paper to the desired spot on the garment using pins.
4. Embroider the drawing: use a satin stitch for all the empty areas, use the straight stitch for the edges of the flowers and all the leaves (except for the white flowers) and use French knots for the heart in the centre.
5. Dissolve the paper using some hot water.
6. Sew the pocket back onto the jeans and press the garments.
And you're finished!