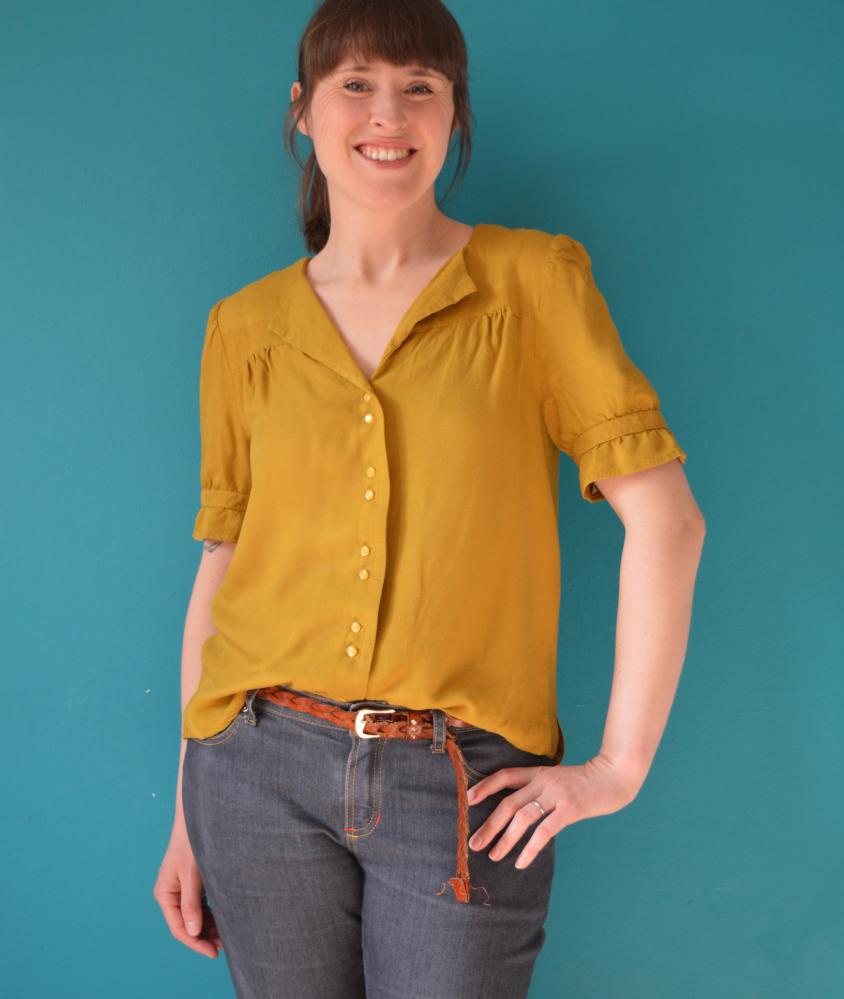 Have you heard about the #MeMadeMay challenge on Instagram? It is a sustainable initiative that brings together a large community around sewing. Founder Zoe Edwards from the British blog http://sozowhatdoyouknow.blogspot.com/ wants to encourage everyone to wear home-made clothing as much as possible during the month of May. La Maison Victor spoke with Zoe and was curious to learn her story behind Me Made May.
The #MeMadeMay Challenge came about as a way to motivate people to build a better relationship with their handmade (sewn, knitted, crocheted, etc.) garments. You can participate every year in May by registering on Zoe's website. The intention is also that you make the challenge for yourself achievable by swearing a personal oath to yourself, like "in May, I will only wear dresses I have sewn myself because I would like to start wearing more dresses".
Identikit:
Zoe Edwards
Stay-at-home mum with 2 young children (5 and 2)
works part time at an online-fabric shop
writes about sewing on her blog http://sozowhatdoyouknow.blogspot.com/
Designed and produced sewing patterns that are available on her blog
LMV: Zoe, why did you start sewing? 
Zoe: I started sewing as a child, making things for my dolls and teddies. Both my mum and grandmother were seamstresses at various points in their lives, so there was always fabric lying around and sewing was a very 'normal' activity. But having a mum and grandmother who could sew was kind of a double-edged sword. On the one hand, it normalised sewing as a way to create the things you wanted relatively inexpensively (like dolls clothes, fancy dress outfits, a garment that you couldn't find in the shops) or to alter or repair your existing things. However, as they both sewed for a living, it wasn't shown to me to be a creative, or particularly joyful, activity. During my Fashion Design degree, I found I preferred the technical aspects (sewing and pattern cutting) of the course and that design wasn't something that came very naturally to me. To help alleviate the stresses of my studies, I started making fabric handbags in my spare time and sold them through some independent shops near where I lived, and I've had various side-lines and mini-brands of clothing, accessories or children's wear on and off ever since.
LMV: On your blog you say you aim to live a more sustainable and authentic life; how does sewing help you herewith? 
Zoe: During my 20s, I worked in a variety of clothing companies based in London. The last one was a real fast-fashion type place that produced cheap clothing for the lower end of the high street in factories based in Romania. Part of my job was to review the fabric test reports, so I knew how poor the quality was, and how short the lifespan of those garments were likely to be. Another aspect of that job was to order all the trims that go into making a garment aside from the fabric, like hanging loops, garment labels, zips, dyed or fabric-covered buttons, hangers, plastic bags to cover them and so on, and I always had to order more than was actually required to produce the order, in case additional lengths of fabric were delivered (from China). I HATED the amount of waste that my role was contributing to, but at the same time I discovered the burgeoning online sewing community. This community seemed to me to offer a way of clothing yourself that was fun, thoughtful and creative that allowed me to step away from being part of the fast fashion cycle (I only lasted a year in that job!). These days, I see that sewing is a way to make garments that truly fit with my aesthetic, lifestyle and body shape in a way that RTW simply can't, that those self made items will therefore have a longer life. I do not believe that sewing be claim to be a sustainable activity, however, if we are creating clothes that will receive heaps of wear, that we have a deep bond with compared to RTW items, I do believe it can be a more sustainable option for clothing yourself.
LMV: How do you combine your sewing work with raising a young family?
Zoe: These days, my love (or addiction!) to sewing is heavily linked to my role as a mum of two small kids. It gives me an internal life that is separate from the many monotonous tasks that a stay at home parent has to do over and over again, plus it's so great to create things that won't get undone almost immediately (like the pile of clean laundry, the stack of clean plates or the toy-free lounge carpet!). I also get a deep satisfaction from providing for my family through sewing: by making them many of the clothes they need to live their lives in.
LMV: Why did you start Me Made May?
Zoe: The first ever me-made challenge was actually Me-Made-March back in 2010. It was a personal challenge I created for myself to test how far I could rely on all these clothes I'd been making over the previous year or so. I was inspired by an artist called Natalie Purschwitz who completed a project called Makeshift, and I wanted to know if I too had the guts to take a leap and fully rely on only garments I had made myself. The month was difficult and very cold, but I did it! I decided to try and do it again during a warmer month (May), so I mentioned my plan on my blog and asked if anyone wanted to try something similar and a surprising number of blog readers signed up. Over the next couple of years it became a regular, annual event.
LMV: This year will be your 10th Me-Made-May. How has the concept evolved in time? 
Zoe: Well, it has changed in a number of ways, and grown enormous! The whole point of the challenge has always been to wear the garments we make ourselves more often (and/or in new ways) with the aim to really appreciate and embrace them, AKA to improve our relationship with our handmade wardrobe. However, the original 'wear one thing you've made each day' evolved and people now set the specifics of their own pledge to make it challenging but do-able for themselves, so that they can get what they need from the month.
LMV: There's a huge community participating in the challenge today on Instagram.
Zoe: Indeed, an it is the community aspect of the challenge (i.e. the discussion, support and sharing of documentation photos if participants choose to take them) that has changed the most over the last decade. Initially, participants followed each other and commented etc. solely via our blogs, then a vibrant Flickr community became a focus for the interaction for many years. We tried Facebook and Pinterest a couple of times, but they didn't work as well. But over the last three years or so, the majority of community interaction has taken place via Instagram through the various hashtags.
LMV: Did you plan anything special for the 10th anniversary? 
Zoe: For years, participants had been talking about some kind of visual tool for displaying participation in the real world like patches or something. So at last we got a proper logo designed and Josie at Fabric Godmother (UK based online fabric shop that I work with) spurred me on to get enamel badges produced. I had decide that I wanted to connect this year's challenge in someway to a charity that supports garment workers because it is such an important issue and one that can feel so difficult to make a stand for. When the idea of the badges came up, the idea to donate 20% of the profits to non profit 'Labour Behind the Label' seemed like the perfect way we could show support.
LMV: How do you see your sewing life in 5 years?
Zoe: Personally, I hope to be collaborating on sewing projects with my children! My 5 year old daughter has recently started hand sewing, and I already involve her (to a certain extent!) in the decisions required when making her clothing. So I imagine that I will have taught her (and my son if he's interested) to use my sewing machine and that she will be participating more in the creation of her wardrobe. As for myself, I haven't bought RTW for about ten years, and I couldn't imagine not making my own clothing, so I'm sure I'll still be at it for me too. I'm sure I will still be blogging about sewing, sustainability and surrounding topics too.
LMV: And what about Me Made May? 
Zoe: I think that over the last couple of years Me Made May has really hit a good stride. Less frequently do people misconstrue it as a photo or a sewing challenge (taking photos of your daily outfits is ENTIRELY OPTIONAL, and it's about appreciating what you have already made, rather than stacking up more and more makes just for the sake of it). Because the pledge is personalised, people can alter the specifics of their own challenge year after year, so you'll never be 'done' with Me-Made-May. That is unless you reach a point where you are entirely happy with your relationship with your handmade wardrobe.
LMV: We hope we all reach that point one day. Thanks for your time, Zoe!
Read Zoe's blog on http://sozowhatdoyouknow.blogspot.com and follow her on Instagram via @sozoblog.
You can find more info about Me Made May here.