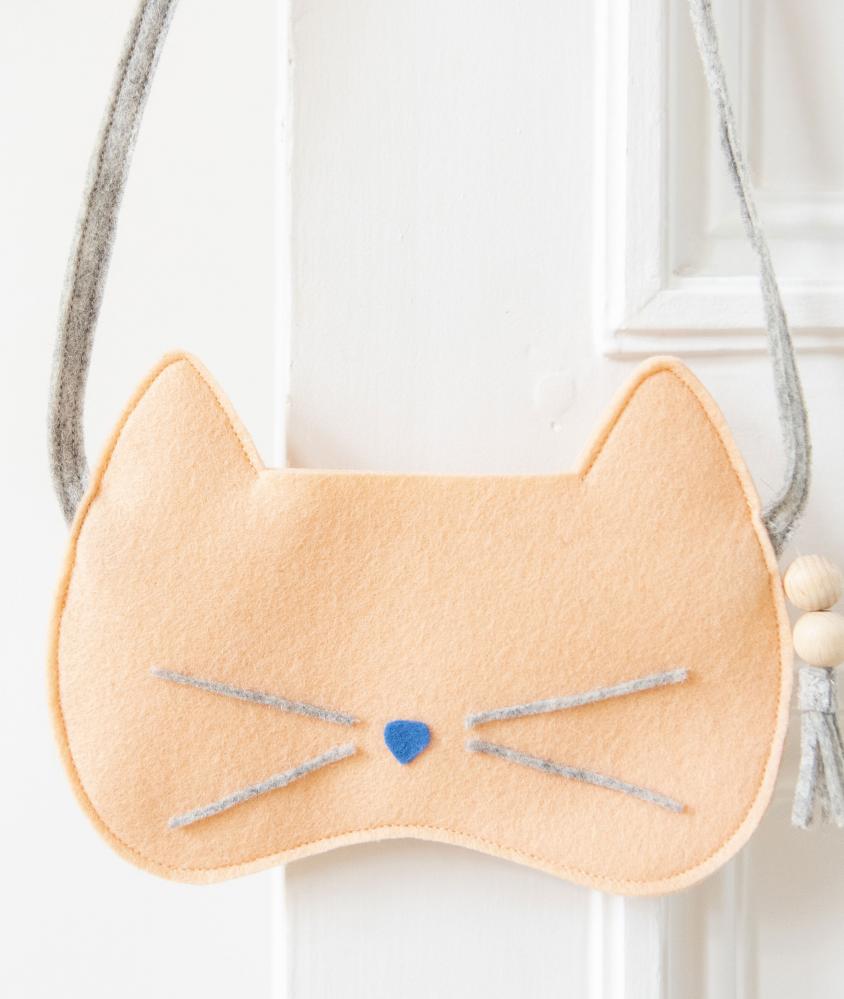 You will be sure to delight every little girl with this cute cat purse!
This DIY was created by NUÏ.
Materials
We opted for felt, which is an easy fabric that doesn't require a lot of finishing.
Supplies
Pieces of felt: 100% wool – thickness 1.2 mm – 20 x 30 cm – Colour: nude pink, bright blue, and grey melange
Textile glue
Wooden beads (⌀ 15 mm): 2
Thread
Sewing instructions
Cut out all the pattern pieces from the various pieces of felt:
Cat's head – nude pink felt – 2x – download the pattern here.
Nose – bright blue felt – 1x
Whiskers– grey felt (2 mm x 6 cm) – 4x
Shoulder strap – grey felt (1 cm x 30 cm) – 6x
Tassel, part 1 – grey felt (2 mm x 4 cm) – 8x
Tassel, part 2 – grey felt (1 cm x 2 cm) – 1x
Start by sewing the shoulder strap. We turned 6 shorter pieces into 1 long doubled strip. Lay 3 strips in a straight line one after the other. Next, lay the other 3 strips on top in such a way that the edge of each strip overlaps the strip beneath it by 1 cm. Glue together.
When the glue has dried, apply decorated stitching along both edges of the strip, 2 mm from the edge.
Sew the ends of the shoulder strap to the outermost edge of the cat's head, just below the ears.
Place the 2 cat's heads you have cut out on top of one another (the shoulder strap should be in between the 2 pieces of felt) and stitch all around at 3 mm from the edge, fastening at both ends. Start at the inside of the right ear and end at the inside of the left ear. Leave the part between the ears at the top of the head open.
Now, make the tassel: Bundle the strips (part 1) and glue the little rectangle (part 2) all around the upper part of the strips. Sew the wooden beads into place at the top of the tassel and affix it to the side of the shoulder strap using a bit of yarn.
Glue the whiskers and the nose in place at the front of the purse.
Share your creation with #nuixlmv on social media. You will also find NUÏ on Instagram and Facebook.
You're done!